Three years ago, Greg Newenhof purchased the long-neglected Captain George Conrad Flavel residence with the intention of restoring it. When Greg passed away in January, his brother Jeff conceived a project dedicated to the memory of his brother: a book detailing the history of the Flavel family.
The Newenhof Family and City Lumber Company, in collaboration with the Clatsop County Historical Society (CCHS), is sponsoring three consecutive events to raise money for that project.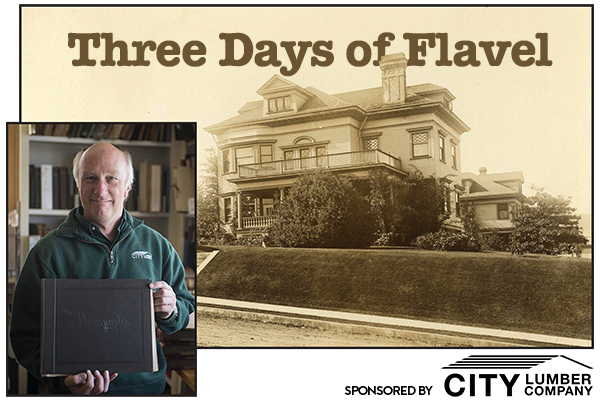 Thursday, Sept. 20th, John Goodenberger will present his popular lecture, "A Family Residence in Decline," at 7:00 PM in the Columbian Theater, 1102 Marine Dr. The lecture will trace the lives of George Flavel's descendants: reclusive and mysterious, and fodder for endless gossip. "A lot of people run amok with the facts regarding the Flavels," noted Goodenberger. "There's no need to embellish this story." The evening will also feature a few minutes of Flavel home movies. Tickets are $10 and sold only at the door.
Friday, Sept 21st, a special reception will be held at the Captain George Conrad Flavel residence, 627 15th St., at 7:00 p.m. Attendees will view newly donated, never seen publicly before, Flavel family home movies. Spanning the 1930s, 40s and 50s, the films capture the family at home and on world travels. Tickets for the evening are $75 per person. Space is limited. Attendees will enjoy cocktails and hors d'oeuvres. In addition, attendees will be able to bid for this once in a lifetime event—Wine at the Captain George Conrad Flavel home, and a catered dinner at the Captain George Flavel House Museum.
Saturday, Sept 22nd, the Captain George Conrad Flavel residence will be open for self-guided tours from 10:00 a.m. – 4:00 p.m. The public will be able to see work accomplished in the on-going restoration. Tickets are $10 for CCHS members and $25 for non-members.
For more information about these events or other Clatsop County Historical Society activities, please call 503-325-2203 or e-mail: cchs@cumtux.org.